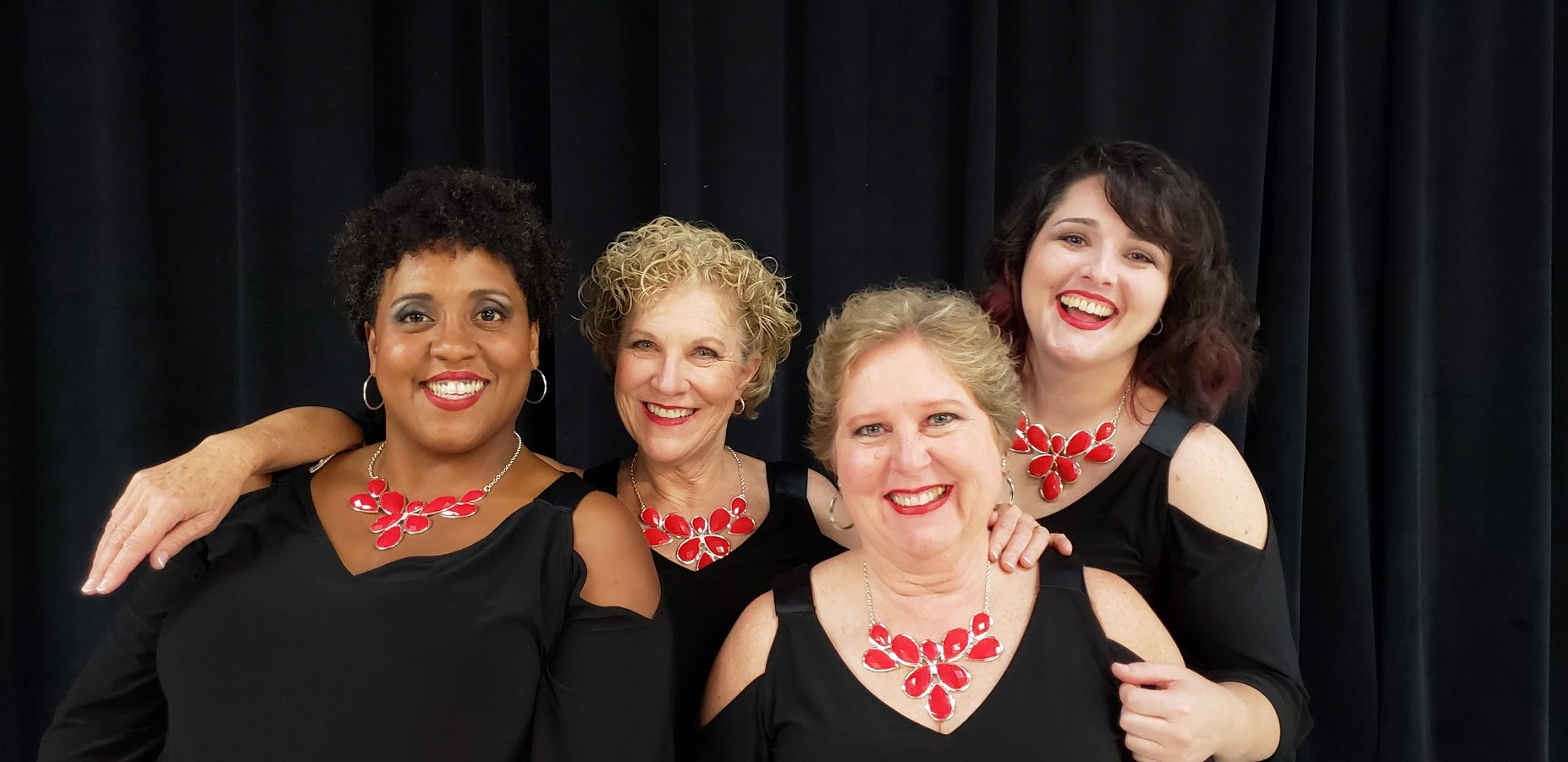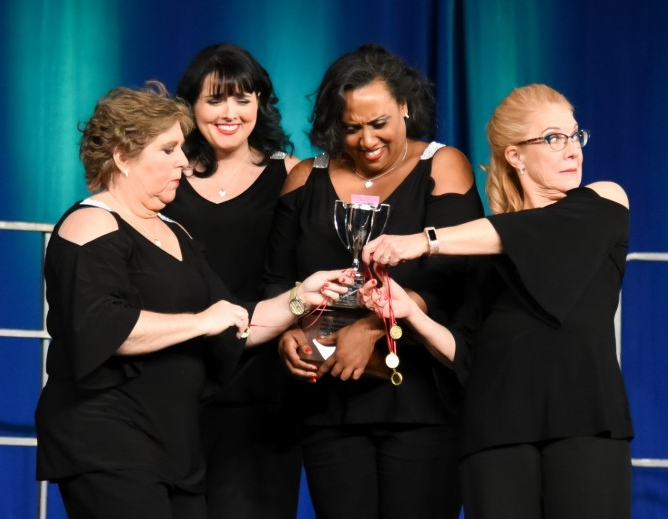 Beginnings…
Nat and Amy met in Physical Therapy school. Their first chorus together was Chesapeake Harmony where Amy was a charter member. Angel and Ericka were in the same newbie class in HCMC in 2011.  Soon after, Nat and Amy also joined HCMC. Two physical therapists, one IT nerd and a lady with a good eye for photos became Mix It Up Quartet in 2015 as a Valentine's quartet. It turned out to be a good thing. They probably set a record for the longest time coming up with a Quartet NAME!!  Ericka, Natalie, Amy, and Angel - all members of HCMC - also work behind the scenes and serve on one or more of the Creative, Music and Management teams for Harbor City. They believe that fun and good work go together! 
Harbor City knows them for their surprise appearances at chorus retreats ~ complete with costumes! Blow up suits, crazy hats, and big bows is not unheard of with this group.
The Regional Sweet Adelines contest April 2016 was the first time Mix It Up competed, and they won the Novice Quartet Award!! 
The recent years have provided many opportunities to sing for the public not only representing HCMC, but as a quartet. Their favorite event was appearing on local TV for a spot on Good Day PA! abc27 for region 19's Sweet Adeline's competition.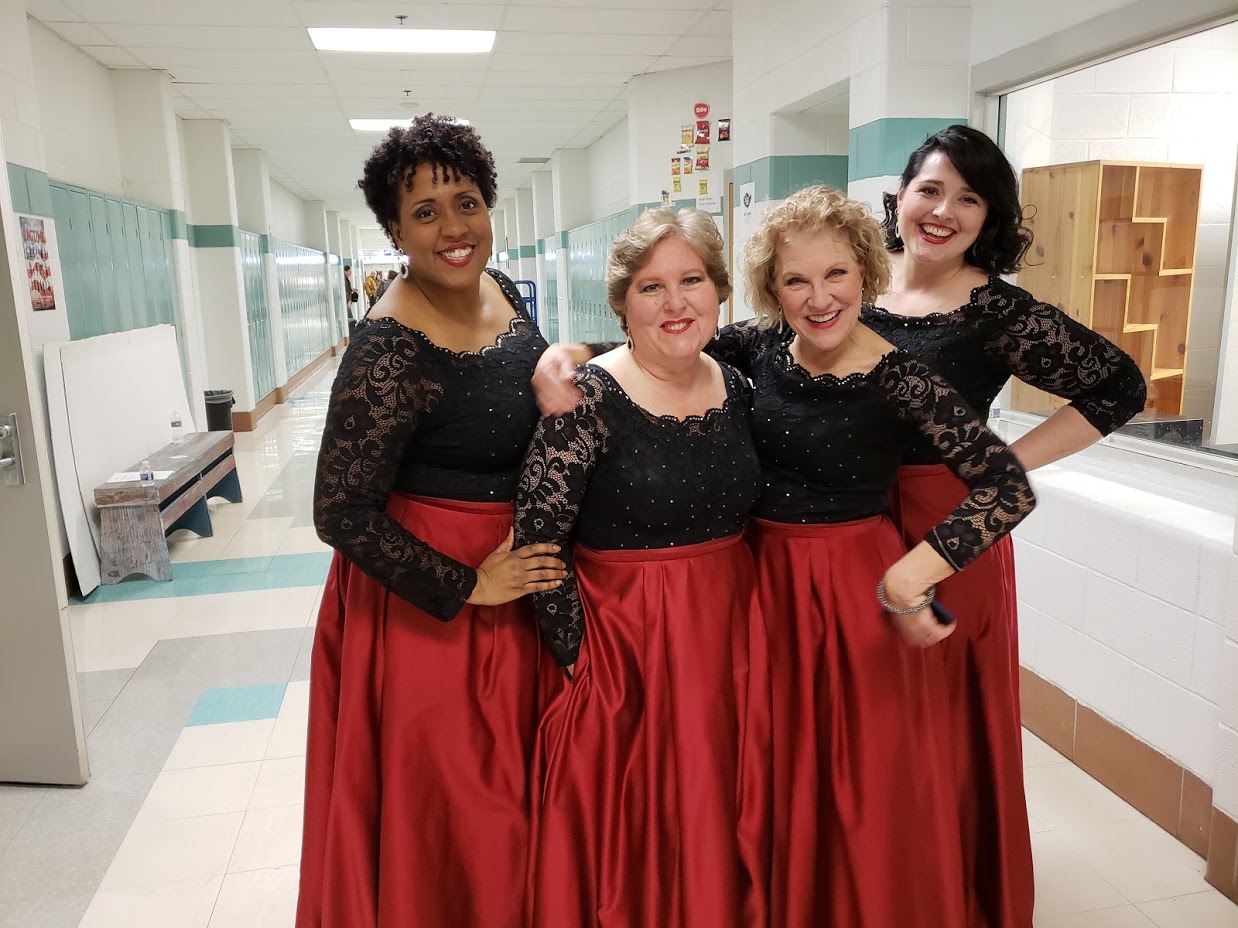 Natalie McIntyre - Bass
Nat manages to fit in this hobby between long distance traveling between Florida, Delaware and Maryland. She's truly a nomad- traveling with her husband Dick and Betty, their furry dog girl, up and down the east coast.
Nat is also a very talented artist working with mixed media and likes to submit her work to local art shows. She takes that same creative energy into the garden and is always beautifying her home. Don't be surprised if she is able to recall the most obscure facts and jingles about - well almost everything.  
Amy Kinder - Baritone
Amy is our musical genius...yes she's the baritone, and can sight read music like no other. Amy has a degree in Music Theory and is a resource for learning tracks in the SAI universe.
Music runs in the family. Amy has three grown daughters all in the arts and her husband Mike is also a singer/songwriter. Her sister Suede is a jazz singer, appears at clubs all over the country. Her daughters all sing, in different genres. Liz is more into show tunes, but she and Katie had a quartet and competed in a Rising Star contest in 2006. Katie's been singing in lots of weddings lately, and Becky is a singer/songwriter living in Nashville. Amy has been known to sub for the baritone in Maxx Factor and is dedicated to HCMC's musical excellence by serving on the music team and mentoring several members in various parts.
Angel Kidwell - Lead
Angel is the mother of four girls.  Her kids were in the chorus before she was.  She took them to the Kids Chorus during the holidays and discovered something for herself. The girls have been coming back every year to this day.
Angel happens to love the dead, as in zombies. She has a huge movie collection and loves movie trivia with her niche being horror. So much so, that she painted her garage and party room floor a genuine glossy blood red. Wine anyone?
Angel is a professional wedding photographer, and when she and husband Mike take the family on amazing family trips, you won't find typical vacation photos on her social media. What really captures your attention is Angel's ability to capture so much more.  Find her on Instagram, you won't regret it.
Ericka McLeod - Tenor
Ericka works both sides of her brain as a graphic artist and working as an IT professional for many years. Her creative side includes dabbling in several creative gigs from websites to watercolors. One of her favorite gigs was painting murals for children's bedrooms and playrooms.
Her most recent adventure is permaculture, which is a form of organic system design applied to farming. Nothing big...she and her sweetie, Austin, are starting small and love everything about working in the dirt and with nature. Their family consists of her working/student daughter, Tayis and four furbabies, Lucky the dog, and three cats, Mocca, Marley and Lenny.