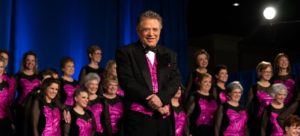 Michael Gellert
Master 700 Director
Michael began his musical career in 1968 singing baritone with The Sons of the Severn Barbershop Chorus (SPEBSQSA). He later became a member of several successful quartets including "The Pacemakers" and "Tyson Street."  Michael was the baritone in the Mid Atlantic District Champion quartet "Casino". Michael began studying voice in 1973 and joined the Baltimore Opera Company in 1979, singing in over 40 productions and over 120 performances, including their final production of Aida in 2008.
In 1993 Michael made his Sweet Adelines debut directing the Elkridge Chorus, earning the coveted "Master Director" certification in his first competition with the chorus. Elkridge merged with the Towson Valley Chorus in 2001 to form the Harbor City Music Company Show Chorus, which Michael has led to numerous Regional and International medals. In 2016, Michael earned the title of "Master 700 Director" with a regional winning score of 706, the highest in the history of the chorus. That is, until 2018 when the chorus won regional competition with a score of 737.
At any HCMC performance, you are bound to hear a Gellert arrangement, as Michael is a talented and prolific arranger. His arrangements can be found on the CDs of several Sweet Adelines Queens of Harmony, as well as HCMC's own "Unexpected Songs" and "This Way to Broadway" CDs. He is also a very busy coach and voice teacher, drawing students from many area choruses as well as the general community.
Article:  Local Opera Singer Returns to His Roots – Michael Gellert
For information about a Michael Gellert arrangement, contact [email protected]